Peace Love and Patchouli - Earthy Inviting Sensual Earth Soap
Sale price
$10.00 USD
Regular price
Take a trip to the 60s with our handmade palm oil-free vegan soap, scented with the irresistible aroma of the "love oil" - Patchouli. This unique fragrance combines sweet, spicy, and woodsy notes that are sure to captivate your senses and leave you feeling uplifted and revitalized. Indulge in the enchanting properties of Patchouli, which has been used to promote feelings of love and desire. With its natural ability to ease anxiety and calm the mind, this soap is the perfect addition to your self-care routine.
But that's not all - our Patchouli soap is also packed with skin-loving benefits! It promotes cell regeneration and helps tone the skin, reducing the appearance of blemishes and leaving you with a healthy, radiant glow. Join our loyal customers who have enjoyed our carefully curated Patchouli essential oil soap for over 25 years.
At Blue Heron Body Home, we're passionate about the environment and your well-being. That's why we've wrapped our Peace, Love & Patchouli bar in a 100% compostable cellulose fiber bag with a kraft paper band and shipped it in recyclable paper and/or compostable packaging. So you can indulge in the natural goodness of Blue Heron soap with a clear conscience, knowing you're doing your part for the planet.

Ingredients: Our Peace, Love & Patchouli bar is formulated with a vegan, palm oil free, vitamin rich blend of saponified oils including coconut, rice bran, olive, apricot kernel, and castor (sourced from a Woman Owned Company). Enriched with raw, organic and fair trade shea and cocoa butters (sourced from from ladies in Ghana who traditionally hand-process and directly benefit.) Organic Rosemary Extract for its antioxidant effects. Essential oils of: Patchouli.
Estimated delivery:

Dec 08 - Dec 12

Free shipping on all orders over $70
Earth Soap Promise
Our earth soaps are carefully crafted without the use of palm oil and harness the power of seven plant-based oils, including raw organic fair-trade shea and cocoa butters, renowned for their abundance of fatty acids, vitamins, and moisturizing nutrients. Each bar is delicately scented with high-quality essential oils, ensuring a natural aroma that permeates the soap from the first use to the very last sliver.
Zero Unwanted Chemicals
We are committed to using only the highest quality ingredients in our soaps. We utilize pure food grade ingredients and completely avoid synthetic detergents, colorants, and preservatives. Our belief is rooted in providing a pure and gentle cleansing experience that naturally nurtures and nourishes the skin
Zero Palm Oil
By creating palm oil-free soap, we help protect ecosystems, support ethical sourcing, and prioritize the well-being of both individuals and the environment. Our formulations utilize raw organic fair-trade shea and cocoa butter, providing nourishment while promoting sustainable livelihoods. 
Zero Waste
Our products are proudly packaged with sustainability in mind. Bars are slipped into clear bags made from 100% compostable cellulose fiber, ensuring they can break down naturally and minimize environmental impact and wrapped with a recyclable kraft paper band. With our eco-friendly packaging solutions, you can enjoy our products while knowing that you're making a conscious choice for the planet.
Blue Heron is the only soap in my shower! I love the scents and the lather.
Really like this soap
Really like this soap. Bought 4 of them and a scrubber the bars fit into at the Dayton's Market. I am using the Patchouli fragranced bar right now, and when I am done showering my whole bathroom smells amazing. It lathers well and I am using it on my face and my complexion is much better. Will definitely buy again.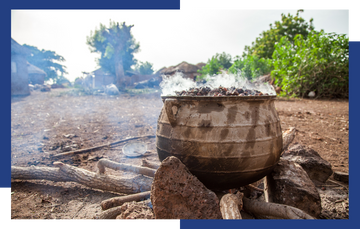 Champion Women's Equality around the Globe
As advocates for women's equality worldwide, we take pride in our collaboration with women-owned companies to ensure ethical and sustainable sourcing of our ingredients. By supporting these companies, we contribute to the economic empowerment of women in their local communities. Additionally, we actively give back to organizations that prioritize fair employment practices, treating women with the dignity and respect they deserve. See how we give back!
Through our commitment to sourcing raw organic fair-trade shea and cocoa butters from women in Ghana who hand process these ingredients, we directly support and empower these women, making a positive impact on their lives. Together, we strive to foster a more equitable world, one where women are valued and empowered in every aspect of life.